PUNCH. LIFT. ROW.
SCIENCE-BACKED BOXING WORKOUTS WITH RESULTS YOU CAN TRACK.
ARE YOU READY TO BEAT YOUR BEST?
Get ready to sweat as you rotate through a circuit designed to challenge you with every punch, lift and row. You'll work on your boxing combos on a variety of bag styles, get a full-body conditioning on the rowers like the boxing champs do, and target a different muscle group each day for a balanced full-body burn.
As you unleash your inner champion, you'll get real-time feedback on your technique via Jabz K.O., our one-of-a-kind punch tracking technology. You're your own competition and the option to join the class leaderboard provides extra motivation to help you beat your best in every class!
Get Hooked
Learn the foundational techniques of the 6 basic punches, defensive maneuvers and simple combos as you hit various bags around our custom ring and on the floor. No prior boxing experience is required; your coach will provide pre-class demos, give you pro tips on boxing techniques throughout the class, and grab you for some one-on-one skills work as you move through the circuit.
Bonus: hitting the bags is a proven stress reliever!
Pick Up, Put Down, Repeat
A rotating muscle focus ensures you hit all major muscle groups to maximize results without burnout. We'll guide you to perfect your form first, then challenge you to pick
up those heavier weights to build lean muscle - the key to achieving lasting results.
Train Like a Boxer
There's a reason rowing machines are boxer-approved. Rowing is a full-body exercise that gives you a cardio and strength workout, all with zero stress on your joints. A variety of speeds, intervals, and bonus exercises will keep boredom at bay, no matter how many classes you take!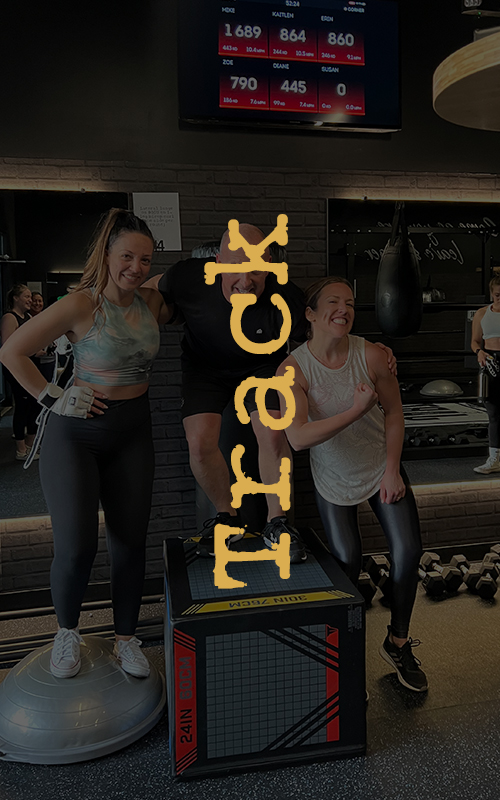 The Jabz K.O. Advantage
In every Jabz Boxing class, we give you the power to track the speed, power and number of punches you throw, right on your wrist! An in-class leaderboard and post-class reports allow you to monitor your progress and beat your best in every single class. Try the industry's first gamified boxing fitness experience with Jabz K.O.!