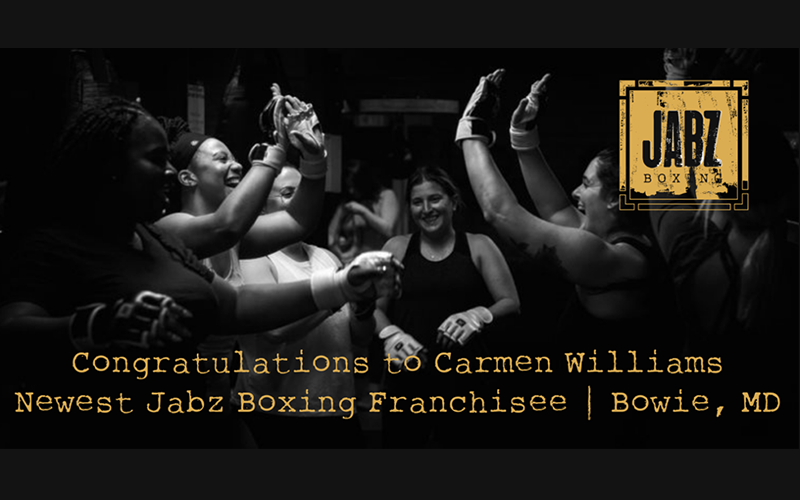 Jabz Boxing, where gritty boxing gym meets luxury boutique studio, announces a new agreement has been signed to bring the concept to Bowie, MD. Jabz Boxing offers circuit-style fitness classes that blend elements of kickboxing, plyometrics, HIIT, and more in a curated setting that includes a custom boxing ring with 12 different bags. The fun and fast-paced classes are designed to help anyone "come as you are, leave stronger." The new studio will open under owner Carmen Williams.
 
Carmen brings to her ownership journey decades of experience as an HR professional, a long-time dream of being an entrepreneur, and a passion for the stress relief offered by kickboxing-style workouts. She started to explore her passion more seriously as her children grew up, and her personal situation began to allow her more flexibility. When Carmen found Jabz Boxing, she was instantly hooked. 
 
"The Jabz Boxing workout truly does help everyone leave stronger. Each individual in the ring can get the right workout for their personal fitness level, while everyone benefits from the camaraderie that the group environment provides," shared Carmen. "I'm proud to bring Jabz to the Bowie area to help people find their way to strength they never knew they had and to empower them to overcome any obstacles in their way, inside and outside of the ring." 
 
"I knew if I was going to open a business, it was going to have to be a franchise," added Carmen. "With the roadmap the Jabz Boxing team provides, I can focus on growing the business instead of having to figure out all of the details in areas I'm less skilled at. With the expertise of Jabz Boxing's corporate team behind me, I'm confident our studio will deliver an excellent workout and build a strong community."
 
The announcement comes as Jabz Boxing continues to expand into key markets across the country, including recently opened locations in Bel Air, MD, and Wesley Chapel, FL. Jabz Boxing offers its franchise partners a robust business training system to help new business owners become champion-level studio operators. With boutique fitness ranking as the fastest growing sector in the fitness industry, there's no better time to bring Jabz Boxing to your area. 

For more information about the Jabz Boxing franchise opportunity, please visit
https://jabzboxing.com/own-a-jabz.