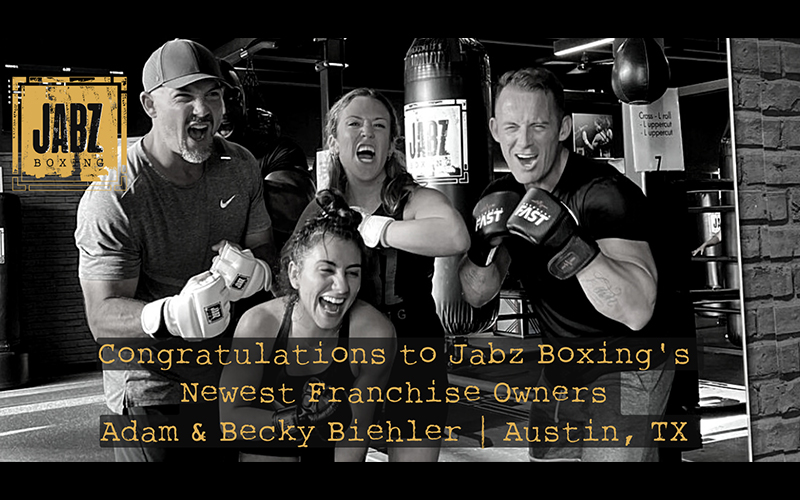 Jabz Boxing, where gritty boxing gym meets luxury boutique studio, is excited to announce that a new multi-unit agreement has been signed to bring the brand to Austin, TX. Husband and wife duo Adam and Becky Biehler will open four Jabz Boxing studios across the city over the coming years.
Jabz Boxing offers high-intensity circuit-style fitness classes. Each workout blends elements of boxing, strength training, and functional movements with intermittent cardio bursts. Jabz Boxing studios are outfitted with a signature Jabz Boxing ring and 12 different style boxing bags. Classes draw on innovative punch-tracking technology to gamify and elevate the workout, tracking the count, speed, and power of every punch a client throws during class on a live leaderboard and mobile app. The fun and fast-paced classes help anyone "come as you are, leave stronger."
Adam, owner-operator of Jabz Boxing Austin, grew up playing baseball and football, but fitness has played a life-changing role for him as an adult. "Fitness was at the center of my journey to getting and staying sober," he shared. "Four years later, I knew I wanted this passion to be more than a hobby. I wanted to find a way to provide a healthy outlet for the challenges others may face, whether overcoming addiction or managing the stress of high-pressure jobs or everyday life. I know the value fitness can offer, and I am passionate about all that Jabz Boxing will bring to the city of Austin."
Becky, who brings a sales and customer service background, will support the business as studio manager. "I'm a cheerleader at heart," she said. She was the captain of her high school cheer team and cheered through college. "I love being able to support a team, motivate them, and be a positive influence to help others become the best possible version of themselves. We love that Jabz Boxing offers something cutting-edge yet approachable, delivering a well-structured workout, an energetic sense of community, and a physical challenge that can be made accessible to all. We are also proud that this endeavor allows us to set an example for our kids and show them the importance of exercise and how it extends to physical and mental wellness."
"Jabz Boxing offers a market-leading, boxing-inspired workout delivered by certified coaches and will stand out in the Austin fitness scene," explained Bert Albertse, Brand President of Jabz Boxing. "The personal transformation experience and enthusiasm that Adam and Becky bring to supporting others' health and wellness journeys is contagious and is sure to impact the Jabz Boxing community in Austin."
The announcement comes as Jabz Boxing continues to expand in key markets across the country, including a multi-unit agreement signed earlier this year in nearby San Antonio, TX. From operating systems to ongoing support, you're set up for success with the Jabz Boxing team in your corner. For more information about the Jabz Boxing franchise opportunity, please visit
https://www.jabzboxing.com/own-a-jabz.